The Inner World is a point-and-click adventure game by Headup Games. The Inner World is one of the best game in Android I played ever. After playing this superb game, I really want to play some more similar games like this. There is the best hand-drawn graphics and animations in this game, which perfectly fits into this game. Best part of this game is its brilliant story which makes it one of the best adventure game in Android. Music, voice acting and dialogues are also perfect in this game. The inner world is filled with adventure, mysteries, emotions, drama, twists and lots of fun. And with all its good features no adventure fan should miss this superb game.
You need to know a little bit English or German to fully enjoy this game. Because, all dialogues are only available in English and German, and dialogues are one of the main part of this game.
This game has some interesting puzzles and quests which you can solve easily with just your little efforts. If you are feeling yourself stuck anywhere in this game, then you can follow some simple hints to solve any quest. To access hints, just open your inventory, there is a question mark (?) in the top left corner of your screen, tap on it and get hints related to any quest.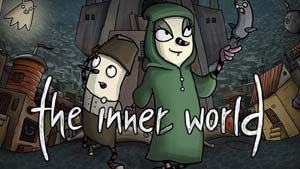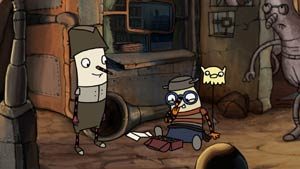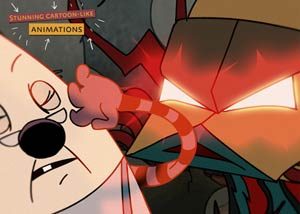 Description:
The Inner World – A hilarious and critically acclaimed 2D-Point'n'Click Adventure.
1. Awarded as Best German Computer Game 2014
2. Awarded as Best German Family Game 2013
3. Google Play Editors Choice
Robert is a novice, a bit clueless, but with a heart of gold. He lives a peaceful life as a court musician in Asposia's largest wind monastery. Contrary to the laws of physics, Asposia is an enormous, hollow space surrounded by an infinite expanse of earth. The world's air is provided through three wind fountains, but as one wind fountain after the other petered out and the wind gods came to Asposia, all of the sudden Robert found him in the middle of a whirlwind.
Together with the help of the mysterious thief Laura, his best intentions and no clue whatsoever, Robert sets off on his adventure to discover the secret of the wind's disappearance. Will the young adventurer be able to save his world? And what are Laura´s secret intentions…?
Features, Features, Features! This is where The Inner World shows what it means to be lavishly with tons of content waiting for you: Screamingly funny dialogues! Numerous tricky puzzles! A handmade world fully drawn with love and devotion invites you to discover countless details (at least 325!). A patented multi-level hint system enables everyone to finish the game! A wonderful comforting atmosphere! Eye-pampering backgrounds in non-stereoscopic handmade 2D (!) – going up against all current graphic trends! Five spectacular chapters! A story with more twists than any Asposian nose! Stunning cartoon-like animations! The most epic soundtrack since the origin of Asposia as well as professional voice overs – even lip sync! Lots of cut scenes! Optional hotspots! And of course: Robert, the very-very-very-VERY-last hope for Asposia!
–The Inner World Apk+Data–
— Texts and voice-overs 100% in English (and German) —
— Full game, no In-App-Purchases —
— Tablet support —
"No adventure fan in this world should miss out the cuddlesome story about Robert, Laura and Peck – nobody!" – game2gether.de [91/100]
"A world that will enchant you, an adventure debut that will fascinate you." – gamona.de [84/100]
"That's the way a classic point & click adventure should look like." – gameswelt.de [8/10]
"Great speaker's performance, charming soundtrack." – pcgames.de [86/100]
"The world of Asposia may be hollow, but The Inner World offers a solid […] treat for adventure fans that shouldn't be missed." – alternativemagazineonline.co.uk [9/10]
"If you grew up with games such as Kings Quest or Broken Sword, you will definitely savor Headup Games and Studio Fizbin's point-and-click adventure game The Inner World. […] The game is as beautiful as it is amusing, having some spicy and well-put comments, as well as many memorable characters." – softpedia.com [8.5/10]
"I unashamedly recommend this game to all adventure game fans." – adventureclassicgaming.com [5/5]
————-
Please note:
After the current update your Savegame may be lost – we are very sorry, this is caused by a technical problem. To get your progress back, please use the Wishing Well (start new game, touch settings button and then touch it again) and enter one of the following codes to progress fast in the game:
Chapters                          – Codes
Root Forest                       – startchapter2
Abondoned Dynasty       – startchapter3
Secret of the Basylians   – startchapter4
Asposia's last hope          – startchapter5
Sorry again, have fun nonetheless! 🙂
Watch Game Trailer:
Requires: Android 2.3+
Version
In-App Purchases: No
Get it on Google Play and support the developer for their good work.