Dog Mendonca is a point-and-click adventure game by DS Fishlabs. Dog Mendonca has good graphics, interesting story line, lots of humor and fun. It's a paid game in Google Play & App Store, released on April, 2016. Even after 4 years of release, this game still has just 1000+ installs in Google Play. I played this game completely and this is one of my favorite adventure games. To encourage developers to create more awesome games like this, I am removing the download link from games with fewer installs. And you should support these developers by purchasing their game or at least by sharing their game. If we don't support these developers today, then we never get good games in Mobile. As you can see most mobile games of todays are just by money hungry developers, filled with ads, IAPs and crap gameplay. Now it's completely up to us what future we want of mobile gaming.
Now a days I am playing some point-and-click adventure games like The Inner World, Infamous Machine and Dog Mendonca. These all games are filled with superb story, amazing graphics, lots of humor and fun. I have some more point-and-click adventure games right now in my mobile, which I am going to upload here very soon.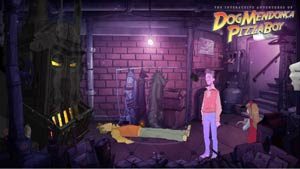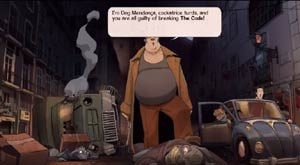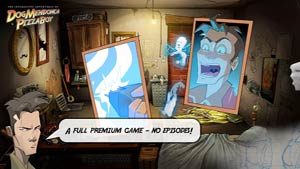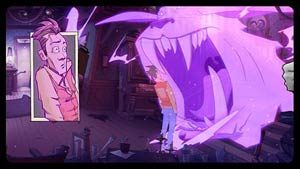 Description:
[ Solve a criminal case beyond believe in this supernatural adventure game based on Dark Horse Comics' popular graphic novel trilogy! Written and illustrated by the guys who made the comics! ]
# # # INVESTIGATE THE IMPOSSIBLE! # # #
Monsters are real. And they are all hanging out in Lisbon, the beautiful yet haunted capital of Portugal. But suddenly, all the vampires, specters and ghoulies vanish from the streets (or wherever else they had been hiding). So it is time for supernatural sleuth Dog Mendonca and his otherworldly posse to hit the scene and save the day with bravado, wit, determination and the occasional use of force.
# # # ADVENTURE GAMING MEETS THE SUPERNATURAL # # #
The Interactive Adventures of Dog Mendonça & PizzaBoy is a hilarious graphic adventure for smartphones and tablets. The game is based on Dark Horse Comic's fan-favorite graphic novel series praised, among others, by horror icon George Romero ("Dawn of the Dead"). Solve ridiculous riddles, meet grotesque characters, visit spooky locations, have whacky conversations and enjoy no-holds-barred humor. Laugh, cry, shake, revel, ponder, marvel, freak out… and laugh even more!
# # # MADE BY THE WRITERS AND ARTISTS OF THE COMICS # # #
This is the real deal! The game's hilarious story comes straight from the crazy mind of Filipe Melo, the author of the original Dog Mendonça comics. And the stunning visuals were crafted by Juan Cava and Santiago Villa, whose unique style art graces the pages of the graphic novels.
# # # FRIGHTENING FEATURES # # #
• Adventure gaming meets the supernatural: Solve a criminal case beyond belief
• An all-new story: Unravel a blood-curdling mystery based on the Dark Horse comics
• Monster mash: Team up with a middle-aged werewolf, a six-thousand-year-old demon trapped in the body of a young girl and the severed head of a moody gargoyle
• Gore-geous graphics: Feast your eyes on astonishing hand-made visuals
• The real deal: Play a game developed in cooperation with the guys who made the comics
# # # FOLLOW THESE LINKS… IF YOU DARE # # #/
• Deep Silver FISHLABS website:
http://www.dsfishlabs.com/
• Deep Silver website:
http://www.deepsilver.com/
• Okam Studio website:
• Dog Mendonca website:
http://www.dog-mendonca-game.com/
# # # COSTS & REQUIREMENTS # # #
As a full premium product, The Interactive Adventures of Dog Mendonça & PizzaBoy does not contain unlockable chapters or other IAPs. Purchase it once and get access to all content right away!
In-App Purchases: No
Get it from Official Store to Support the Developer for their good work: