Modern Combat 4 is another high graphic FPS Action game by Gameloft. Download the latest version v1.2.3e of Modern Combat 4 from here. I added this game here after testing it completely. Game is working very well and all license verification, etc are removed from the game. Just download and enjoy.
Also try:
Gameloft Java Games for Android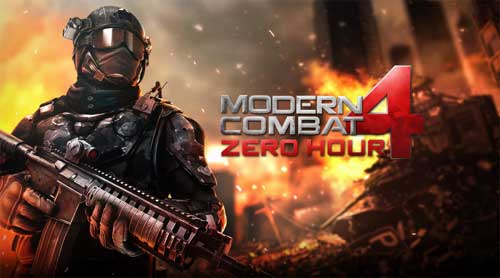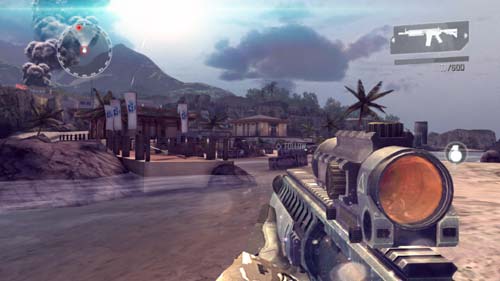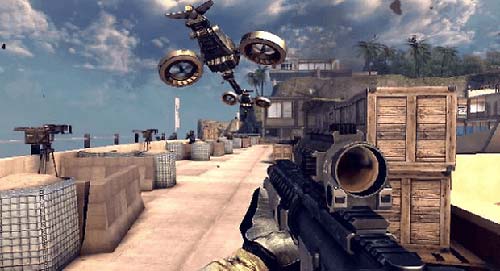 Description:
The #1 Action FPS game is back on smartphone with a new chapter to push the boundaries of mobile gaming even further. In the wake of nuclear warfare, the only chance to avoid global devastation is in the hands of the few elite soldiers who must track down and rescue the world's leaders from a frighteningly familiar terrorist group.
DIVE INTO THE MOST MEMORABLE ACTION SHOOTER EVER
☢ Feel the story's dramatic intensity and see both sides of the story by also playing the villain, Edward Page.
☢ Dominate the battlefield with a new tactical movement system!
☢ Wage war and take action all over the world, from Antarctica to Barcelona!
EXPERIENCE THE ULTIMATE ACTION FPS WITH CONSOLE-QUALITY GRAPHICS AND SOUND
☢ Feel the chaos of war on the battlefield with console-like graphics, lifelike animations and dynamic objects.
☢ The first Gameloft title powered by the Havok Engine for amazing ragdoll effects. Warfare never felt so realistic!
☢ Improved sound & voice acting performed by a renowned studio in the movie industry.
ENJOY A FULLY REDESIGNED MULTIPLAYER GAME MODE
☢ Forge your own gameplay profile online with an improved loadout system & over 20,000 weapon arrangements!
☢ A new specialization system with redesigned skills.
☢ Lead your character to the top of the online leaderboards with a new ranking system!
Find all the information for MC4, the #1 Action FPS game, on http://www.modern-combat.net.
For all fans of action games, FPS games (First-Person Shooters), war games, multiplayer games, online FPS games, and for all players who want to dominate the battlefield!
Minimum hardware requirements to play Modern Combat 4:
– 1 GHz CPU
– 512 MB RAM
– Adreno 205 GPU or equivalent
– Available storage: 1.9 GB
Requires: Android 4.0+
Latest Version: 1.2.3e
In-App Purchases: Yes
Get it on Google Play and support the developer for their good work.
Download links for Modern Combat 4 Apk+Obb:
Select Apk for Graphics Quality:
Apk (Low) ⇩
Also try other Modern Combat Games:
Modern Combat: Sandstorm Apk+Data
Modern Combat 2: Black Pegasus Apk+Data
Modern Combat 3: Fallen Nation Apk+Obb
Install Instruction:
1. Install Apk.
2. Extract the obb file, copy com.gameloft.android.ANMP.GloftM4HM folder from extracted obb file and paste it to:
Internal storage>Android>Obb>[here]
So this must be look like this:
Internal storage>Android>Obb>com.gameloft.android.ANMP.GloftM4HM
Start the game always online. You can turn off the internet when game starts.
Brief Instruction about how to install games with Apk+Obb files.