CATS is an online action multiplayer game by the creators of Cut the Rope, ZeptoLab. I installed this game few days ago and find it extremely addictive game, and that's why this game is 2017 game of the year by Google Play too. CATS is an online fighting game of battle bots. Customize your own battle bots and fight against other players battle bots from all over the world. In CATS your battle bots fight with other player's battle bots automatically. You don't need to do anything between fights. Just create and customize best battle bots you can, before fights! There are lots of different amazing parts and bodies are available in this game to customize your battle bots like how you want. Download this game, Assemble, upgrade, mix different parts and construct an ultimate fighting machine to become the star of the arena.
Update:
After enjoying this game for a while, I am completely satisfied with CATS gameplay, and now I can say it is one of the best android games of all time. So, must try this game, and also try other best android games of all time too.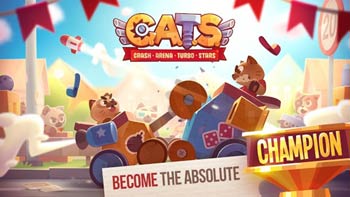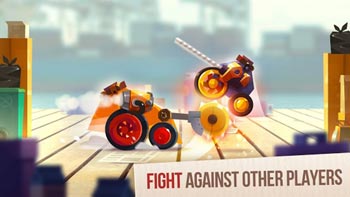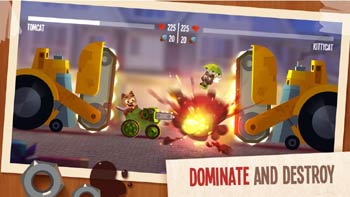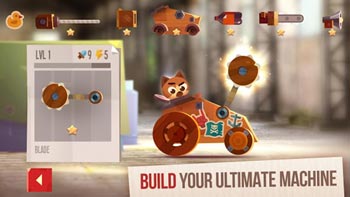 Description:
Build your own battle robot and unleash its power in this new PvP fighting game!
From the creators of the hit games Cut the Rope and King of Thieves, comes the most ingenious and stylish battle bot constructor! Join more than 50 million players from all over the world and become the star of the Arena!
Unite into powerful gangs, participate in gang battles to win brand-new wepons and use them to design an unbeatable fighting robot. Make every opponent bite the dust!
Features:
• Be a master engineer: design, craft, upgrade, and improve the ultimate battle robot!
• Take the role of a mean street cat and fight against other players in fast and hilarious PvP action!
• Discover dozens of crazy weapons, gadgets and body shapes. Outsmart your opponents with your unique robot design!
• Create a powerful gang and rule the streets! Participate in gang battles to win unique parts, make new friends and share your secrets in gang chat.
• Battle against real players and fight your way to the top of the World Championship!
• Bet on other bots and share replays of your best fights!
Get the game now for free and become the star of the Crash Arena!
Requires: Android 4.1+
Latest Version
In-App Purchases: Yes
Download link for CATS Apk:
Download Apk from Google Play ⇩
Instruction:
Install APK and play.