Total Football 2022 Mobile or Legendary Football is an upcoming football game from GALA Sports. Its first beta test is already here. You can download the latest version of Total Football from Only4Gamers now.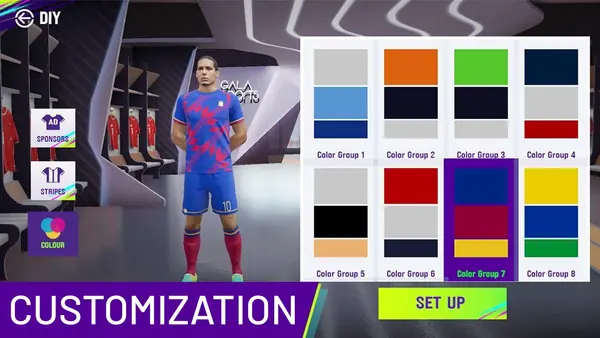 Description
"Total Football" is a competitive football mobile game developed by GALA Sports for five years . There are 3D super-realistic game screens, super-passionate football competitive gameplay and classic game re – enactments , dedicated to creating super-realistic manipulation football games for football players who like fierce competition.
Real football control gameplay
The game engine is based on a new neural network AI algorithm and motion matching engine. Whenever the player touches the screen, multi-threaded motion matching causes a high-speed search of 1 million player actions and automatically selects the most suitable action, providing players with ultra-smooth football matches. experience.
3D hyper-realistic game screen
Based on a new generation of mobile devices, the game can not only render large scenes with more than 50,000 spectators while turning on global illumination and volumetric light high dynamic color gamut, but also realize the calculation of realistic muscle deformation and jersey physical effects, creating a real football experience. Immersive gaming experience in the world.
Abundant battle game modes
The PVP/PVE battle game mode supports the real reproduction of leagues and cups, and a variety of gameplays meet the experience needs of all kinds of players who love competitive football.
Exclusive customization for players with high degree of freedom
High degree of freedom for players to customize the gameplay – choose your favorite football stadium, Tifos, audience colors and patterns, allowing you to create the best club that truly belongs to you anytime, anywhere.
Currently,
"Total Football" is undergoing final testing and optimization.
We will be able to officially meet you soon.
I hope that we can innovate and optimize our products,
For those of you who love football games,
Bring a different gaming experience.
Let everyone in our game,
Feel the pure joy of football competition.
Let's have a Happy "About the Ball"~
Watch Gameplay:
Requires: Android 6.0+
Latest Version: 1.4.120
Download Total Football Mobile for Android & iOS:
Try Some Other Football Games Too:
FIFA Football Mobile 2022 Android & iOS
eFootball 2023 (PES 23) Android & iOS
Vive Le Football Android & iOS
Dream League Soccer 2022 Android & iOS
Dream League Soccer 2019 Android & iOS
How to Download Total Football for Android:
1. Use any VPN and connect to New Zealand region. This is the only free VPN I find that connects to New Zealand:
VPN Link
2. Open Google Play App Settings and Clear all data.
3. Click on the link below and install the game.
Apk ⇩
4. Once the download has started, you can turn off your VPN.
5. Launch the game online when the download is complete.