Installing games with Apk+Obb data is not a very lengthy or tough process at all, but still most people's don't know how to do this. If you already downloaded or going to download a game which contains Obb/Data file then here I am going to give you a brief Instruction about this. Just follow some simple steps and in the end you will surely know how to Install Android Games with Apk+Obb Data.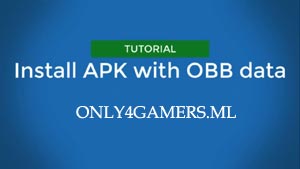 What are these Obb/Data files
Before starting this tutorial, let me explain you what are these Obb/Data files. These Data files are necessary for running your game. These Data files contain bundles of large assets and carry encrypted data including media and graphics that is not included in the APK file.
Without wasting your more time I think I must need to start the tutorial now.
Requirements:
To install the APK with the Obb/Data, you will need to have:
1. A file manager. Like X-plore File Manager Apk (Recommended) or ES File Explorer or any other file manager you like.
2. A game with Apk and Obb/Data file.
Video Tutorial
Watch video tutorial or continue reading to know how to install Android games with Apk+Obb Data files.
Install android games with Apk+Obb Data files
Now follow these simple steps to Install APK with Obb/Data files, directly on your android device.

1. Open your file manager.
2. Locate your game apk file and Install it, but don't open it.
3. Locate your downloaded game Obb/Data file(usually a .zip or .rar file). Open or extract .zip/.rar file and copy "data folder" from there and paste it to your phone internal storage sdcard>Android>obb folder. If there is no obb folder exist then create it yourself.
4. Now close your file manager and open your installed game. If you done everything according to Instruction, it will be run normally.

That's it. If your game is working normally, just enjoy it. If there is any problem  or doubt, just ask me in comments.

Like us on Facebook and Subscribe to our YouTube Channel for more awesome games and apps like this.
| Best Java Emulator for Android (No Root) »