CPU-Z Apk is a popular android app by Developer CPUID. Its only feature is to give you all information about your android device. It has a simple and easy interface and its size is just 2.4 MB, which makes it quit popular among android users.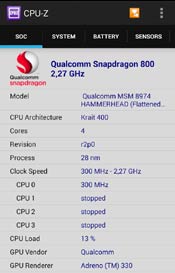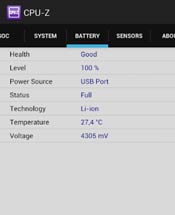 CPU-Z Apk
Description:
Android version of the popular CPU identification tool for PC, CPU-Z is a free application that reports information about your device.
– SoC (System On Chip) name, architecture, clock speed for each core ;
– System information : device brand & model, screen resolution, RAM, storage.;
– Battery information : level, status, temperature, capacity ;
– Sensors.
Notes :
Online Validation (version 1.04 and +)
The validation allows to store the hardware specification of your Android device in a database. After the validation, the program opens your validation URL into your current internet browser. If you enter your e-mail address (optional), an e-mail with your validation link will be sent to you as a reminder.
Settings screen and debug (version 1.03 and +)
If CPU-Z closes abnormally (in case of bug), the settings screen will appear at the next run. You can use that screen to remove the main detection features of the application, and make it run.
Bug report
In case of bug, please open the application menu and choose "Send Debug Infos" to send a report by email
FAQ and troubleshooting
You can visit the FAQ at that address : http://www.cpuid.com/softwares/cpu-z-android.html#faq
Requires: Android 2.2+
Latest Version:
Download link for CPU-Z Apk: