MARVEL Spider-Man Unlimited is another Spider-Man game from Gameloft. It's a story-driven action runner game, removed from the Play Store in 2019. But you can download it from here and enjoy this game again, even on your Newest Android devices.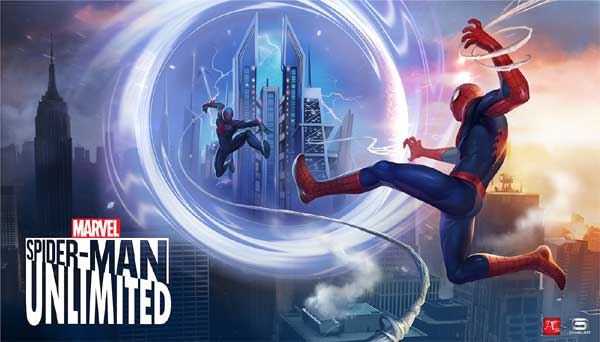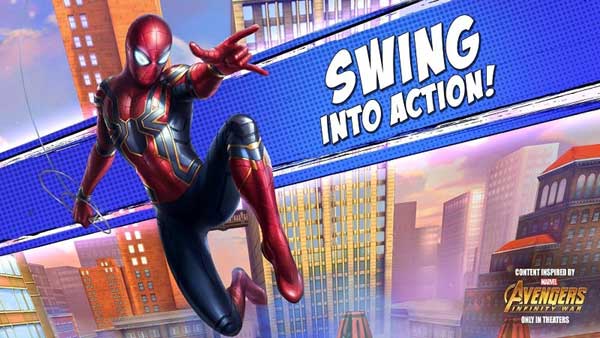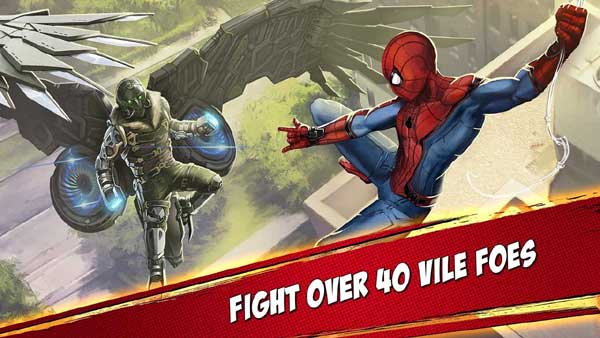 Description:
*** OVER 200 CHARACTERS FROM THE SPIDER-VERSE TO PLAY! ***
Collect and unite every Spider-Man and Spider-Woman to fight the ultimate threat in a story-driven endless runner!
Experience a story that feels like it jumped straight from the Marvel Super Hero comics as you recruit an army of amazing Spider-Verse champions. Combat the new Sinister Six, who have opened a dimensional portal in New York to summon endless versions of themselves! This exponential evil is moving from dimension to dimension, destroying each one. But their sinister games end here!
THE GREEN GOBLIN (ISSUE 1), THE VULTURE (ISSUE 2), ELECTRO (ISSUE 3), SANDMAN (ISSUE 4), DOC OCK (ISSUE 5), AND MYSTERIO (ISSUE 6) ARE HERE! What awaits you after the Sinister Six? Maybe you'll swing with Venom, team up with the Avengers, have a homecoming with Spider-Gwen, help fend off a Civil War, and much, much more!
THE FIRST FREE SPIDER-MAN GAME!
• Enjoy the thrill of the first Spider-Man web-runner! Swing, run and fight through a chaotic Manhattan in over 7 different Marvel environments!
• Go beyond a simple run with unique gameplay! Fight in battles against dimensional super villains, swing, wall-climb and skydive!
• Play Story mode games with 5 boss battles and 25 missions per Issue! New daily and weekly events with spectacular rewards in Events mode! Or climb up the leaderboards in Unlimited mode!
THE FIRST NARRATIVE RUNNER!
• A continuing episodic adventure: The Sinister Six are moving from dimension to dimension, destroying everything in their path – and our world is next! But it ends now… with an army of amazing Spideys, Avengers, Symbiotes and other Super Hero champions!
• Dive into an amazing Marvel Universe spanning over 50 years of Spider-Man movie and comic book content with iconic characters, including dimensional Spideys, multiple variations of each villain, as well as Nick Fury, Mary Jane Watson, and Black Cat!
• Written with an experienced Spider-Man comic writer to ensure a faithful recreation of the Spider-Man comics!
THE MOST SPIDEYS EVER IN A GAME… INCLUDING NEW SPIDER-WOMEN!
• Summon, collect and run with a nearly endless number of Super Hero champions featured throughout the Marvel Universe, including Superior Spider-Man, Scarlet Spider, Ultimate Spider-Man and even Nick Fury from the Avengers comics!
• Collect, fuse, and level up your Spidey cards, each with its own unique in-game benefit. You can even send them on Spidey Ops missions to free the men, women and kids of Manhattan from evil!
• CONSISTENT RELEASE OF NEW SPIDER-MAN CHARACTERS!
For fans of endless runners, Stan Lee comics, the Avengers movie and free Super Hero games – both kids and adults alike!
Requires: Android 4.0+
Latest Version: 4.6.0c (Remastered for All Android Devices)
In-App Purchases: Yes
Download MARVEL Spider-Man Unlimited Apk+Data:
Also try other Spider-Man Games:
Ultimate Spider-Man Total Mayhem Apk+Data
The Amazing Spider-Man Apk+Data
The Amazing Spider-Man 2 Apk+Obb
Instruction:
1. Download Apk and Data File.
2. Install Apk.
3. Extract data file. If you are using Latest Android OS then you must use ZArchiver app to extract and copy paste data file.
4. From extracted data file copy data folder and paste it to Android/data/[here].
5. launch the game first time online. It will download few MBs, then you can play offline.