Horizon Chase is an Offline Racing game by Aquiris Game Studio S.A. Horizon Chase is a good racing game with good graphics and gameplay. This is one of the few racing games in android right now, which available without any IAP, and you can enjoy complete game without spending a single penny. This game is available in google play for free with five tracks unlocked and you need to make one time payment to unlock complete game. But from Only4Gamers you can download full unlocked version of Horizon Chase for 100% free and enjoy complete game.
There are many control types are available in this game, like you can play it with virtual buttons or using accelerometer or using a gamepad too. For changing game control go to settings then controls and swipe left to see more control options.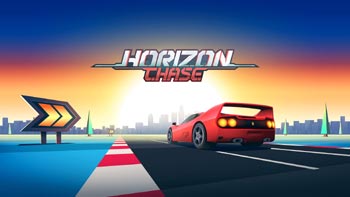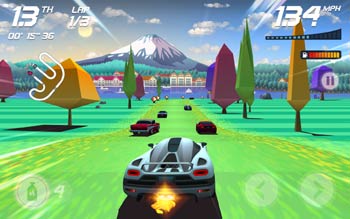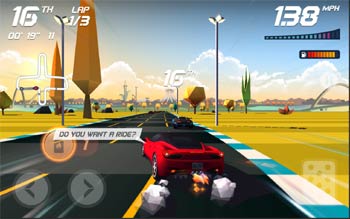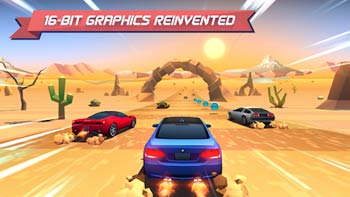 Description:
HORIZON CHASE IS A TRIBUTE TO CLASSIC ARCADE RACERS.
IT'S TIME TO COMPLETE THE WORLD TOUR
– New Hawaii Cup!
– 9 New Tracks
– 2 New Cars: Enjoy the 6 nitros(!) of Janis and the highest speed of Elite 275
– New Car Upgrade: Bodykit
– Google Cloud Implemented. Finally!
This is a PAID game, but you have the opportunity to try it before you buy. Enjoy 5 tracks and 2 cars for free to experience the "Android Excellence Game of 2017".
❤ "ONE OF THE TOP 10 MOBILE GAMES OF THE YEAR!" – Stuff Awards
Horizon Chase is a love letter to all retro gaming fans. It's an addictive racing game inspired in the great hits of the 80's and 90's: Out Run, Lotus Turbo Challenge, Top Gear (SNES), Rush, among others. Each curve and each lap in Horizon Chase recreate classic arcade gameplay and offer you unbound speed limits of fun. Full throttle on and enjoy!
★ AWARDS AND RECOGNITIONS
– Best Mobile Game 2015 STUFF – Nominee
– Metacritic 88
– Best Game on BIG Festival 2016
– Gold Awards on Pocket Gamer
– App of the Week – STUFF
– Best Brazilian Game on Brazilian Game Awards
– Best Brazilian Game on BGS by UOL Jogos
– Big Indie Pitch – 3rd Place
– Best Brazilian Game on BGS by IGN Brasil
❖ 16-BIT GRAPHICS REINVENTED
Horizon Chase brings back the graphic context of the 16-bit generation and creates a style that is inspired in the past without letting go of its contemporaneity. The apparent polygon and secondary color aesthetic accentuate the visual beauty of the game, resulting in a unique and harmonic atmosphere. You'll feel the retro soul of the game on a completely modern body.
❖ A TOUR THROUGH THE WORLD'S HORIZONS
Horizon Chase is a race around the world. With each new cup you'll pilot your car through extraordinary places, watching the sun setting, facing rain, snow, volcanic ashes and even severe sandstorms. Be it day or night each track takes place in beautiful postcards from across the world.
♫ BARRY LEITCH, SOUNDTRACK COMPOSER FROM LOTUS TC, TOP GEAR E RUSH
Horizon Chase presents Barry Leitch, the musician behind the soundtracks of classic arcade racing games Lotus Turbo Challenge, Top Gear (SNES) and Rush. As you play the game, you'll be hypnotized by his charming tunes that compliment the graphical ecstasy of each horizon.
✔ 10 REASONS WHY YOU SHOULD GET HORIZON CHASE
– Try it before you buy: enjoy 5 tracks for free!
– Classic Arcade Gameplay
– 16-Bit Graphics Reinvented
– Barry Leitch's Soundtrack
– Challenge Your Friends
– Google Cloud Support
– 21 Unlockable Cars
– Car Upgrading
– 10 Cups, 40 Cities, 92 Tracks
– 7 Input Methods (MFi Gamepad Compatibility)
❖ GAMEPAD COMPATIBILITY
– Android TV controller and remote
– Google Nexus Player controller and remote
– Green Throttle Atlas
– NVIDIA Shield
– OUYA controller
– Samsung GP20
– Razer Serval
Watch Game Trailer:
Requires: Android 4.1+
Latest Version
In-App Purchases: No
Get it on Google Play and support the developer for their good work.