Tiny Troopers 2: Special Ops is an action game by EA Chillingo. Chillingo, a subsidiary of Electronic Arts.
If you are feeling bored by playing same FPS, action and shooter games again and again and you want to try something new, then it's one of the best game I can suggest you right now.
In tiny troopers 2 you will not control just one character like other games. You will control 2 to 4 troopers in the same time in different missions. Each trooper have their own special abilities, so choose your team wisely. After each successful mission your troopers level will increase, but if they die, then you will loose them.
There are many types of troopers, weapons, upgrades and costumes are available in this game. So, you can customize your troopers according to your taste.
Tiny Troopers 2 have very good graphics, controls and gameplay. There are some IAPs in this game also, but still this game is playable without it and you can easily complete this game without much difficulties.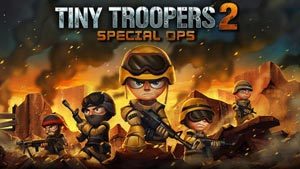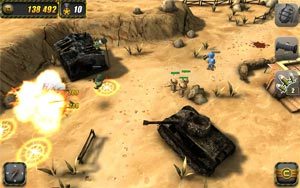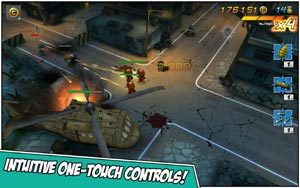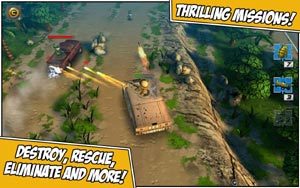 Tiny Troopers 2: Special Ops
Description:
Tiny Troopers are back and better than ever! Decked out in new uniforms and sporting the latest in military hardware, the troopers are just itching to get back into the fight! Test your mettle and lead your troopers to victory in three thrilling special operations!
LOCK AND ROLL!
Jump on a humvee and man the .50 Cal turret-gun as your driver makes his way through the enemy infested territories while avoiding tank shells and a rain of bullets.
A-TEN HUT!
Customize your troopers with new uniforms and train them up the military ranks. Upgrade their rifles and body armor to help them survive longer on the battlefield.
SPECIAL FORCES
Recruit specialists ranging from medics and machine gunners to the elite Delta Force and the flamethrower wielding Flamer to help you on your missions.
MEAN AND LEAN
Use slick touch controls to move your squad, unleash a hail of bullets and decimate the enemy ranks with grenades, rockets and air strikes.
SURVIVE THE HORDE!
Help the Tiny Troopers fight through endless waves of zombies in 3 action-packed maps. How long can you survive among the undead hordes?
Watch Game Trailer:
Requires: Android 4.0.3+
Latest Version: 1.4.8
In-App Purchases: No
Download link for Tiny Troopers 2 Unlocked:
Instruction:
Install APK and play.
If you like this post then don't forget to share it with your friends.